Join your fellow EDGErs for a special Soccer Viewing Party hosted by Sacramento Pro Soccer at one of Sacramento's favorite midtown spots, Harlow's. Get ready to make new friends, connect with old ones, buy a drink for a future client or make a connection for a new job. Register early, this event has limited capacity!
What's new this month at In the Mix?
Food & drink specials from Harlow's
USA vs. Costa Rica World Cup qualifying match viewing (match starts at 5 pm so come early!)
EDGEclusive tickets will also be available for sale for Sacramento Pro Soccer Day's matchup at Raley Field on Thursday, July 18. EDGEclusive tickets include access to the Metro EDGE seating area and the VIP area with complementary food and beverage in the Solon Club
Special guest Warren Smith, Managing Member of Sacramento Pro Soccer, and players from the Sacramento All Star Squad will be in attendance to answer your questions and talk with EDGErs about the importance of sports in creating a vibrant economy.
Why do civic amenities matter?
Engaging in conversations that determine how our community is shaped and stepping up to support fellow Sacramentans is the soul of Metro EDGE. As a young professional, are you aware and of the importance of civic amenities, culture, sports and downtown development to the Sacramento region? We all have a stake in this community and we want it to thrive. It is truly a great time to be a young professional. And, it's an even better time to be in the Sacramento region. Learn more about the Sacramento Civic Amenities Plan here.
****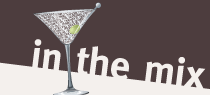 In the Mix events occur on the 3rd Tuesday of each month at chic and exciting venues, giving our members plenty of opportunities to expand their network and engage with the region's top young professionals.
Due to the continuing increase in registration at the In the Mix events, non-member registration is $15, BUT that cost will be deducted from the cost of membership, if you join at the event. Or join now and avoid the hassle at the door!