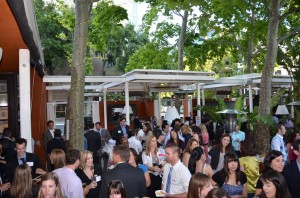 Join us for April's In the Mix at Assembly to check out Sacramento's newest concert venue and network with other motivated young professionals. Enjoy drink specials in the region's newest music and theatrical hub in the heart of Downtown. Make new friends, connect with old ones, buy a drink for a future client or make a connection to get a new job.
Metro EDGE hosts some stellar cocktailers at chic and exciting venues and EDGErs are kind of awesome to hang with. We do our best to keep our members in the know, especially when it comes to new businesses!
Oh, mixers—that old standard of the networking oeuvre. In the Mix events occur on the 3rd Tuesday of each month, giving our members plenty of opportunities to expand their network and engage with the region's top YPs.
** Due to the continuing increase in registration at the In the Mix events, we have changed the policy for non-member registration. Non-members will now be charged $15 to attend, BUT that cost will be deducted from the cost of membership, if you join at the event.