Buy tickets or Volunteer for Haute Stuff - Benefiting Sacramento Children's Home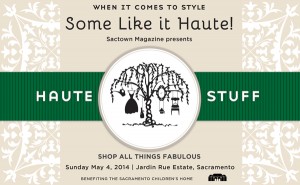 YOU can help end child abuse and neglect by joining Metro EDGE in buying tickets or volunteering for Haute Stuff benefiting the Sacramento Children's Home on May 4, 2014! Come be a part of an afternoon of shopping, cocktails and mingling to raise funds for a deserving organization.
Opportunities to volunteer for the event are listed below. If you're interested, please select the appropriate volunteer ticket option by Sunday, April 20.
When:  The event will take place Sunday, May 4 from 12 p.m. to 5 p.m. View the volunteer ticket options for times on when help is needed.
Where: Jardin Rue Estate (4475 Garden Highway, Sacramento, CA, 95837)
Why: Support Sacramento Children's Home, the EDGE 2014 beneficiary, and shop all things fabulous!
Questions:  For volunteering questions, contact Metro EDGE member Marycon Razo at missmrazo@gmail.com
For more information or to purchase tickets to the event, please visit http://www.kidshome.org/events/.