Don't miss your chance to hear from these amazing leaders!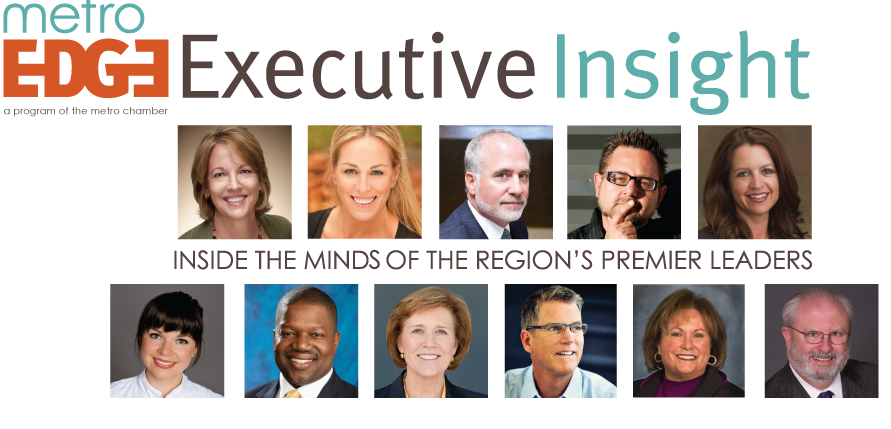 Christi Black :: Executive Vice President, Edelman
Michelle Bouchard :: President, HealthCorps® 
Roger Dreyer ::  Partner, Dreyer Babich Buccola Wood Campora, LLC
Gordon Fowler :: President and CEO, 3fold Communications
Yvonne M. Glenn :: Owner and Chief Executive Officer, Trofholz Technologies, Inc.
Ginger Elizabeth Hahn :: Owner, Ginger Elizabeth Chocolates 
Vincent Johnson :: Chief Operating Officer, UC Davis Medical Center
Dr. Sandra Kirschenmann :: Associate Vice Provost, Drexel University Sacramento Center for Graduate Studies
Mike O'Brien :: Publisher, Sacramento Magazines Corporation
Supervisor Susan Peters :: Sacramento County Board of Supervisors, District 3 
Fred Teichert :: Executive Director, Teichert Foundation
They've slayed the business dragons, climbed the corporate ladder to success, and have a long trail of victories (and lessons learned) in their rear-view mirror. Executive Insight will bring together the region's most influential men and women to share with Metro EDGE members how they got to where they are today, what it takes to be successful, what missteps to avoid along the way and what it means to be a great leader. This is your opportunity to hear the secrets to career success and what it takes to have an impact on the future of Sacramento business. The Hyatt will be preparing tasty snacks again this year!
The early-bird rate for this amazing members-only opportunity ends August 5! So get those tickets now!
This event is exclusive to members of Metro EDGE only. If you're not a member yet, this is the perfect reason to join! JOIN Metro EDGE NOW
Special thanks to our event sponsors!
Sacramento Magazine | Ginger Elizabeth Chocolates | Drexel University | Hyatt Regency Sacramento