Although our summit is fully virtual this year, we partnered with the Midtown Association to bring you an opportunity to pick up your swag bag and meet in-person at the Wednesdays at Winn night market for our Emerge kickoff.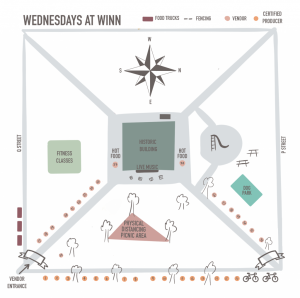 Be sure to come by the Metro EDGE booth anytime after 3:30 p.m to pick up your Emerge Summit Swag Bag, participate in lawn games, prize drawings, and, of course, connecting with fellow EDGE members. We will be located near section near section 9 and 10 indicated on the map to the right.
We hope that you will also enjoy the many activities that Wednesdays at Winn has to offer. This is a great opportunity to engage with local businesses and the community in a lively, energetic setting.
Things to Do
Visit the Metro EDGE booth near the 27th and P Street entrance. Pick up your Emerge swag bag and stick around for games and networking activities to help kick off Emerge.
Shop open-air booths for organic produce, flowers, crafts and farmers market grocery items.
Take a free yoga and strength training class (4:30 - 6:45 p.m.)
Get a drink at the Sippin' at Winn wine garden (5:00 - 7:00 p.m.)
Stay tuned for more details! Follow @wednesdaysatwinn on Instagram to see the latest offerings.