Metro EDGE Young Professional of the Year Award
The Metro EDGE Young Professional of the Year Award recognizes a member of Metro EDGE who has made exceptional and sustained contributions to the Sacramento region and business community.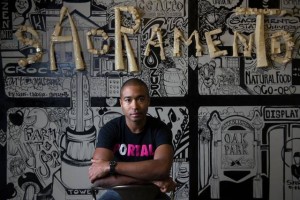 Meet the 2015 Metro EDGE Young Professional of the Year:
Tre Borden: Placemaking Consultant and Producer, Tre Borden, Inc.

@treborden
Some young professionals are difficult to classify, straddling traditional professional titles and industries. Tre Borden is no exception! A self-proclaimed "placemaker," Tre is proving that the seemingly impossible CAN be done to make Sacramento a better place to live. The Sacramento native's unconventional approach to actively engage the region's young professional community in the arts is inspiring new generations to "expect more" (to quote him) from Sacramento.
In 2015, Tre stood out as a leader cultivating the area's unique talents, working on several innovative projects. As a speaker at the EMERGE Summit, Tre encouraged more than 600 young professionals to reimagine their communities as vibrant places for engagement and celebration. No stranger to integrating interactive arts and discussions, Tre inspired young professionals to lead the transformation of unused spaces into educational and culturally rich destinations.
Last year, Tre also applied his eye for placemaking as the curator of the Warehouse Artist Lofts, a new mixed-use housing project that is home to more than 200 local creatives and features two dozen permanent, site-specific installations in downtown.  He also co-produced and managed PORTAL, a temporary activation of the R Street block adjacent to the Ice Blocks development near 17th Street in downtown Sacramento while continuing to push forward the region's largest placemaking project, Bright Underbelly, with local young artists Sofia Lacin and Hennessy Christophel.
Tre has long been a passionate member of Metro EDGE and an integral part of some of Sacramento's most innovative creative projects. After graduating from Yale College, Tre honed his sense of style and flair in NYC before returning to Sacramento to complete his MBA at the UC Davis Graduate School of Management. Once home, Tre co-founded Tapigami, an innovative tape-based art, with artist Danny Scheible. Following, he helped launch FLYWHEEL, a business incubator for creative talent in Sacramento.
His extensive experience, excitement, and tremendous passion for the Sacramento Region are undeniable assets that make Tre a deserving recipient of the Metro EDGE Young Professional of the Year award.
Photo Credit: Sac Bee