Bridge Awards
The Metro EDGE Bridge Awards recognize the contributions of business and civic leaders to develop young professionals locally, the Bridge Awards distinguish the bridge to leadership they have forged.
Meet the 2014 Bridge Award Recipients
James Beckwith, Five Star Bank, President and CEO
Selected for his unwavering support of Metro EDGE initiatives designed to cultivate young professional leadership, Beckwith has been a tremendous cheerleader for Metro EDGE. As chair of the Metro Chamber board, Beckwith created unprecedented opportunities for Metro EDGE leadership to gain access to new leadership experience, implement new programs and expand funders.
Experienced as a young leader himself, Beckwith's commitment to providing Metro EDGE members with opportunities for professional and personal growth has laid the foundation for a new generation of incredible civic leaders who stand ready to contribute to the Capital Region in meaningful ways.
According to Beckwith, "Supporting the next generation of leaders in our community is, quite simply, smart business. We must invest in cultivating talent in order to compete. Without a healthy pipeline of driven people with good ideas and a passion for success, this region will stagnate on multiple levels."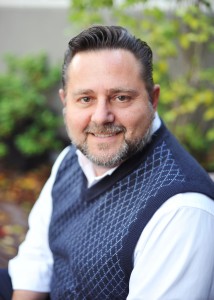 Gordon Fowler, 3fold Communications, President and CEO
Selected for his ever-present dedication to cultivating young leaders, Fowler has been a guiding force for Metro EDGE since its inception in 2009. As the program's liaison to the Metro Chamber board, Fowler supported the creation and maintenance of a structured leadership development program to provide area young professionals opportunities to build their networks, develop critical business skills and give back to their communities while empowering themselves to be leaders in their own right.
Lovingly referred to as the program's "yearbook advisor" during the past five years, Fowler has personally mentored every Metro EDGE chair during its five year history, along with hundreds of young professionals locally and nationally, while also passionately advocating for opportunities where members of Metro EDGE could demonstrate their desire – and ability to – ensure the Capital Region is a viable destination for business, innovation and growth well into the future.
Fowler continued, "The energy and enthusiasm young professionals bring our community is making it a more dynamic place to do business and, quite frankly, a more enjoyable place to live. I'm always energized by the passion and expertise that Sacramento's young professionals bring to any project they tackle."