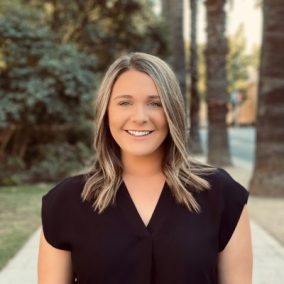 Sarah England
Communications Committee Chair
As a lifelong 'Sacramentan,' Sarah England is dedicated to Sacramento's growth and prosperity. Sarah currently serves as the Community Partnership Manager for Raley's, focusing on partnership development, external relations, and strengthening the communities in which the company serves. In this role, she also oversees all external communications for the company's non-profit, Food For Families. 
Sarah joined Metro EDGE in January 2020. In her first year with the program, she managed Metro EDGE's blog: The Latest. In her current role with Metro EDGE, Sarah serves as the Communications Committee Co-Chair. In just over a year of membership, she has gained invaluable experience and developed a great affinity to the program's dedication to Diversity, Inclusion, and Belonging. Sarah is excited to continue her leadership in 2021 and remain involved with EDGE for years to come. 
When she is not at her desk, Sarah spends her free time exploring the outdoors with her new pup, Zeus, and sharpening her culinary skills. During non-COVID times, she travels often and finds great happiness entertaining family and friends.
Email Member »