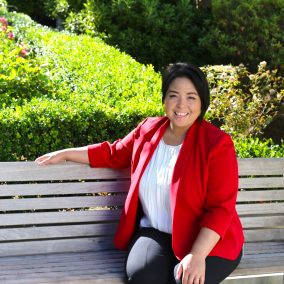 Janette Cruz
Emerge Committee Co-Chair
Janette Cruz grew up in Silicon Valley and set up roots in Sacramento after completing her B.S. in Community and Regional Development with UC Davis, and then her MBA at their Graduate School of Management. Looking to further challenge herself inward and understand how to make an impact in the region, she became a Senior Fellow with the Nehemiah Emerging Leaders Program (NELP), Class IX.
Janette's career has brought her from a Pizza Hut Grab-n-Go, Fashion Line Receptionist, failed Lab Tech, CalPERS (Health Benefits, Investment Office, and Human Resources) employee to energy industry corporate performance. In her current role as Enterprise Performance team lead at the Sacramento Municipal Utility District (SMUD), her team manages how enterprise metrics and project performance is presented to SMUD's Executive Leadership as well as the governance of enterprise projects. The common theme across her career, so far, has been understanding and working through the intersections and interactions of the different governance, social, cultural, and data systems at play.
In addition to the Metro EDGE Leadership Council, Janette's professional and community involvement includes:
Women in Leadership Liaison and Selection Committee Co-Chair of the UC Davis Graduate School of Management Alumni Association Board 

Board Member, SMUD Young Professionals Employee Resource Group

Committee Member, Western Energy Institute's Project Management Conference Planning Committee

Committee Member, Sacramento SPCA External Committee

Senior Fellow, Nehemiah Emerging Leaders Program, Class IX

Motivational Speaker, Fall 2020 BOLD Speaker Series
Janette was recently recognized by the Sacramento Business Journal as part of their 2020 40 Under 40 Honorees. 
Janette stands for authenticity, humility, and self-actualization. She is an energetic catalyst that drives collaborative understanding, approaches, and solutions. She brings structure to chaos, enables candid environments, and can "Kevin Bacon" her way into the most random things! She has been described as a community creator in both her professional and personal spheres. She has been married for 10 years and together for nearly 20 years with her husband Bryan. They enjoy life with their three dogs and little toddler man James.
Email Member »